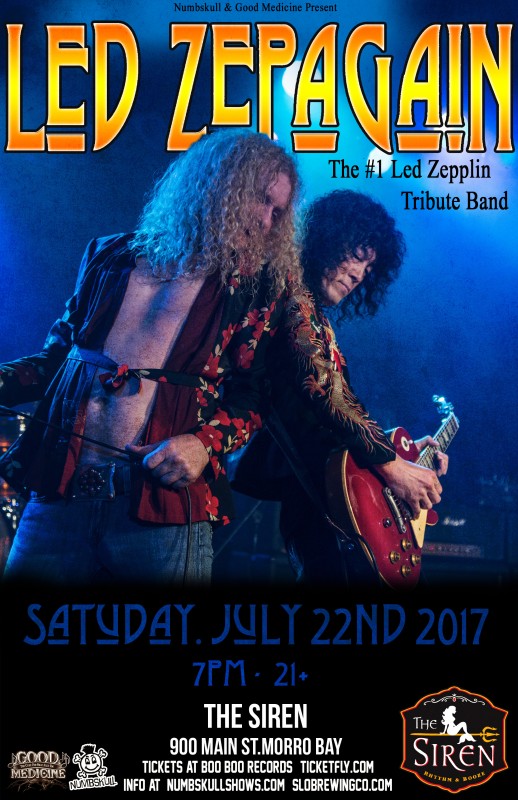 Having formed in 1989 and recently featured on AXS TV's "World's Greatest Tribute Bands" Led Zepagain has become highly regarded as the most authentic representation of Led Zeppelin in the world today.
Led Zeppelin guitarist Jimmy Page himself attended a Led Zepagain show at the House of Blues in Los Angeles. He was absolutely astonished at the bands accuracy stating "It's amazing how much you sound like us. You must have grown up on this because you were inside the music, and you paid attention to detail in your presentation…I can tell you guys really love the music!"
This encounter led to the members of Led Zepagain attending Led Zeppelin's 2007 Reunion Concert at London's O2 Arena and a surprise visit from Jason Bonham in March of 2009 as he sat in with the band on their encore performance of the song "Rock and Roll". http://www.youtube.com/watch?v=2w6noToYSqQ
Having played nationally and internationally in such places as Japan, Ireland, Alaska, Germany, Bosnia, Peru, Canada, Kosovo, Mexico City and Guam, Led Zepagain regularly performs to packed houses all over the world.
World renown guitar phenom Jimmy Sakurai (the man Jimmy Page himself honored with a standing ovation) has joined forces with Led Zepagain to bring to you the most spectacular tribute to Led Zeppelin that's ever been assembled.
Notable Achievements of Led Zepagain
9/13/13 Led Zepagain was featured on AXTV's "World's Greatest Tribute Bands" TV Show hosted by Katie Daryl.
9/3/10: Led Zepagain was featured on CNBC's 'Squawk Box' show with Jane Wells.
…
12/11/08: Led Zepagain is featured on a segment of ABC TV's 'Good Morning America Now' on Tribute Bands.
…
9/23/08: Led Zepagain presents: 'The 1977 Tour – Revisited' at select shows!
…
We in Led Zepagain are THRILLED at the opportunity of a lifetime, as we go off to London to witness the LED ZEPPELIN REUNION CONCERT on Dec 10!!
…
Led Zepagain was extremely proud to have been selected to perform for the new Hard Rock Park in Myrtle Beach, SC. Hard Rock Park opens in April '08, and features "Led Zeppelin – The Ride," a brand new roller coaster officially licensed by the members of Led Zeppelin, that plays Whole Lotta Love during the ride! Jimmy Page personally recommended Led Zepagain to perform for the opening of the Backstage Tour last month, and we have been asked to perform again later this year, as well as for the Grand Opening next year!
…
Led Zepagain on 'The Gilmore Girls'! Greg wrote us with this summary bit from the Feb 14 episode of the WB Network show: "A zydeco band shows up to audition for the moms wedding. Her friend asks why zydeco, she says she was choosing between zydeco, something else and Led Zepagain.
…
Led Zepagain was the proud recipient of 2 Rock City News2005 Awards!! Outstanding Male Vocals of The Year: Swan as well as Outstanding Tribute Band of The Year: Led Zepagain!
…
KCAL Channel 9, " 9 On The Town " covers the Los Angeles Tribute Band scene, featuring Led Zepagain, Which One's Pink and more!
…
An article on tribute bands ran in the UCLA Daily Bruin on 5/26/05, which included Led Zepagain .
……
Led Zepagain was selected to perform at the first "Zepstock" Led Zeppelin Festival, May 15 in San Diego! Sponsored by PLANET ZEPPELIN
Led Zepagain is proud to be performing for a special fundraiser for Jimmy Page's charity, the ABC Trust , on April 3.
…
The Budweiser Arrowfest 2003 was a huge success, and Led Zepagain is proud to have been a part of it!
…
Check out the current issue of All Access Magazine (Jan 9-23) for a great review of Led Zepagain's most recent show at the House of Blues in Hollywood!
…
Music Connection www.musicconnection.com has named "Led Zepagain featuring Swan" as one of LA's Top 100 Unsigned Acts!
Led Zepagain has won the 2002 Rock City News Best Tribute Band Award!