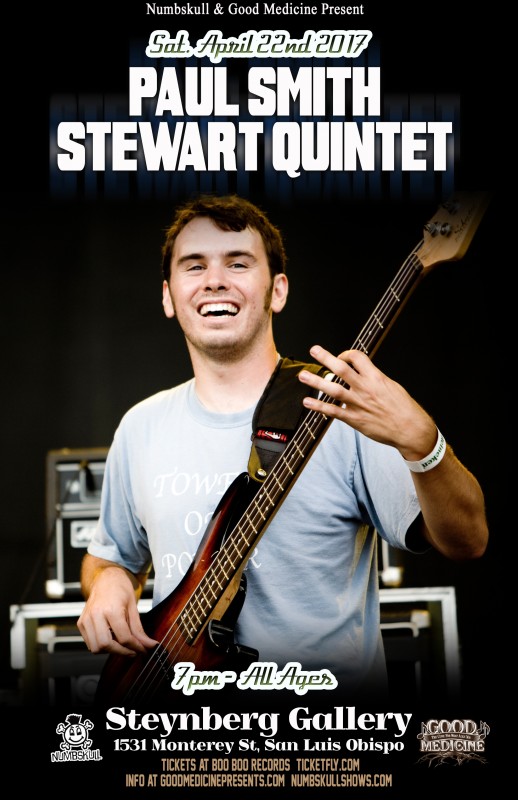 Paul Smith-Stewart Quintet Sat Apr 22, 2017 7pm





S.F. Bay Area jazz artist, Paul Smith Stewart, recently released his funk-infused debut EP Transitions. Paul Smith Stewart moved back to the Bay Area after touring and recording for many years as the bass player for the Central Coast rock band, Still Time. Since that time he has been composing, workshopping, and collaborating on a new project that has now come to fruition. Paul, influenced by groups such as Medeski, Martin, and Wood and Snarky Puppy, incorporated a modern funk groove into each of these expansive jazz compositions. The quintet featured on the EP consists of Lee Dynes (guitar), Ben Lauffer (drums), Ryan Mosse (tenor saxophone), Paul Smith Stewart (bass), and Kevin Wong (keys).


The EP is available to stream on Spotify and Apple Music. Transitions can also be streamed or purchased online on Bandcamp and SoundCloud. In-studio videos from the recording session are available to stream on YouTube.

Paul Smith Stewart is a professional musician, and educator. He has recorded and performed with many different groups, but is most known for his work with the band Still Time. From 2004-2012 Still Time steadily expanded from a local college band to a national touring act that has become an underground legend in their home market of San Luis Obispo and in the greater post alternative rock era. Still Time successfully recorded, digitally distributed, and marketed four albums all on their own record label, When It Hits Records. 

 In 2012 Paul accepted the position of Director of Music at his alma mater Marin Catholic College Preparatory in Kentfield, CA. Since taking over the program the music faculty have overseen huge leaps in the department's size and quality over the past several years. Many graduates are now going on to pursue music in both the collegiate and professional worlds. Outside of his role at Marin Catholic, Paul is currently working on several original music projects. His Jazz/Funk quintet recently released their first EP,Transitions, and will be touring throughout the spring and summer of 2017.