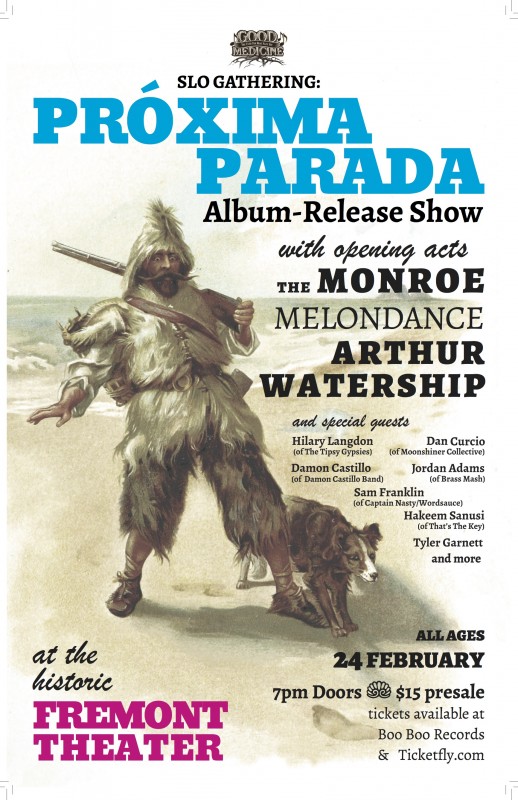 SLO Gathering – Proxima Parada "Album Release Show" Fri Feb 24, 2017 7pm




Join us for "SLO Gathering" featuring the release of Proxima Parada's New Album. SLO Gathering features the talented artists of San Luis Obispo County. In addition to performances from The Monroe, Melondance & Arthur Watership, the concert will include special guests: Hilary Langdon (of The Tipsy Gypsies), Damon Castillo, Dan Curcio (of Moonshiner Collective), Jordan Adams (of Brass Mash), Hakeem Sanusi (of That's The Key), Tyler Garnett, Sam Franklin (of Captain Nasty/Wordsauce) and more!
Próxima Parada has earned a name in San Luis Obispo County. Starting in 2012 as a group of friends wanting to extend their dynamic to their community, they never knew that their project would reach the stage of their favorite venues and music festivals, that their songs would earn awards, that their local radio stations would put their recordings on regular rotation. Próxima Parada's music ranges from unadorned folk, to soul and blues, clear up to floor-stomping dance numbers with enough passion to attract any open ears. Próxima Parada is Nick Larson (vocals, keys, guitar), Kevin Middlekauff (bass), Josh Collins (guitar), and Aaron Kroeger (drums).