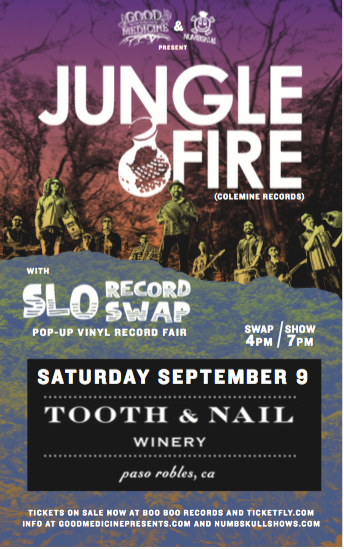 SLO Record Swap – Featuring "Jungle Fire" Sat Sep 09, 2017 4pm




The San Luis Obispo Record Swap is a recurring event that celebrates and gathers lovers and collectors of vinyl records. We invite vendors, locally and from across California, to share and sell their collection to SLO county residences. We're going on our fifth year of organizing large functions (Guild/Grange Hall) along with smaller pop-up events (Libertine Brewery). We have been proud to see our passion for records reflected back in the support we've received, and hope these events brings our music-loving community closer together.
SLO RECORD SWAP
Record Swap begins at 4pm and is FREE to the public.
Jungle Fire's highly infectious and explosive sound draws inspiration from the groundbreaking rhythm sections behind James Brown, Fela Kuti, Ray Barretto and Irakere; a musical recipe consisting of West African and Afro-Caribbean styles layered with heavy break-beat funk, all spiced with a dose of uniquely Angeleno grit.
Originally conceived as a one-off project back in 2011, JF quickly gained attention and thus proved its place among the thriving LA funk/soul scene by lighting up local clubs, venues and underground warehouse parties. The buzz grew and word of mouth spread eventually linking up the band with the Ohio-based indie soul label Colemine Records to cut their first 7" single "Comencemos" (a cover of Fela's "Let's Start"). Lauded by DJ's, radio stations, tastemakers and rabid funk fans across the globe "Comencemos" sold out internationally paving the way for the second 7" Colemine release "Firewalker".
"Few bands live up to their name in the way Jungle Fire do; fusing Cumbia, Afrobeat and traditional funk, each JF jam blazes the floor with real power" as described by Juno Records UK, best sums up the Jungle Fire live show. Serving up a healthy dose of originals and deep latin/afro funk covers all cooked up together in a live mixtape style set ensuring an energy that is nothing short of fire.
Since their inception Jungle Fire has played an impressive amount of club dates and festivals both domestic and abroad having shared the stage with Shuggi Otis, The Blackbyrds, Lee Fields, Charles Wright, The Budos Band and even performing for Los Angeles' recent mayoral inauguration.
Currently, JF has been supporting their first full-length record "Tropicoso" via the Los Angeles heavyweight Latin Alternative label Nacional. Focused on taking their show international Jungle Fire embarked on a massively successful U.K. tour playing to packed venues at every stop including headlining Craig Charles' Funk Club (Band On The Wall) and BBC 6 Radio. Not stopping there, the band also made their South American debut at the Mompox Jazz Festival in Colombia.